Well I am happy that the busy month of December is almost over:)
December 1st is the anniversary of my retirement....3 years ago.
December 9th...my husband's birthday.......he's very old (he reads this blog hee hee)
December 23rd was my birthday....62 now:(
December 25th Christmas......one more turkey dinner done and dusted.
December 28th ....my 1 year blogoversary.
December 30th........the 8th anniversary of my mum's death.
December 31st....it would have been my parents 73rd wedding anniversary.
In our house New Year's Eve was called Hogmanay. New Year's Eve was always a bigger celebration than Christmas Day. It was a tradition that a dark haired person carrying a piece of coal had to cross your doorstep. Usually it was my Uncle Ron who had black hair. It was also a tradition that the children in the house were given a gift and this is when my Aunt Mary would give me my Birthday/Christmas gift. Since I was her only niece it was always a BIG gift:)
My parents were married in Glasgow on December 31, 1938. It was quite common for couples in Scotland to marry on New Year's Eve. My dad used to say it was for tax reasons but I think there was a lot more to the tradition than that. So we would celebrate their anniversary and the coming of the New Year. There was always a feast and many toasts and of course a few shots of whisky. My dad and Uncle Ron would be feeling no pain by the end of the night:)
For some reason, I feel very optimistic about 2012. I just have a feeling that it's going to be a good year.
To all of you out there who read this blog...........all the best and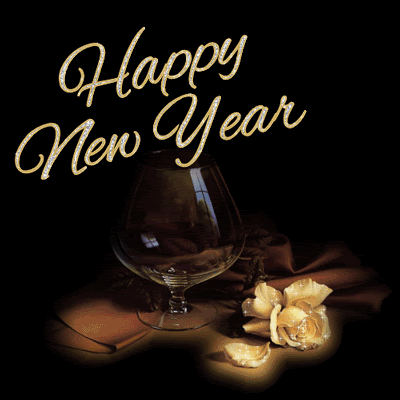 glitter-graphics.com
Take care:)